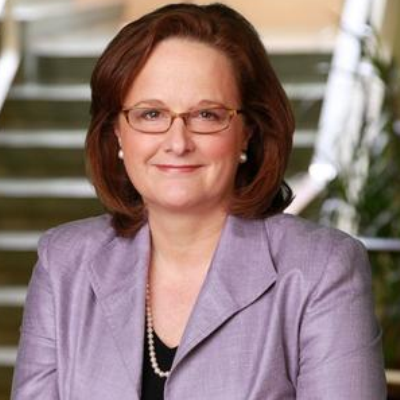 Ginny Morris
Ginny Morris, a third generation broadcaster, is the Chair and Chief Executive Officer of Hubbard Radio, LLC.  Hubbard Radio operates 30 radio stations in Chicago, Washington DC, Seattle, Phoenix, Minneapolis-St. Paul, St. Louis, and Cincinnati.
While still in college in 1982, Ginny began working in the promotion department of their flagship TV station, KSTP-TV. She started with special projects and promotional events and eventually became the manager of that department in 1985.
In July 1990, she was asked to take on the challenge of managing KSTP- AM, the original holding of the Hubbard Family's broadcasting business (originally licensed as WAMD in 1923). It was in that role that Ginny developed her true passion for and interest in the radio business. In May 1995, she added KSTP-FM (KS95) to her duties, becoming President and General Manager of both KSTP radio properties.
Having had success with developing local talent for KSTP-AM, the company began syndicating it's talent on a regional basis and formed a new company, the Hubbard Radio Network in August 1999. The Hubbard Radio Network works with 26 affiliates throughout the Upper Midwest and continues to add stations.
Hubbard Radio purchased WIXK-AM/FM in New Richmond, Wisconsin, in December 2000. In June 2002, WIXK-FM was moved to the Twin Cities metropolitan area. The format was changed to a new type of Talk Radio, and is now referred to as myTalk107.1. MyTalk107.1 is one of the first, if not the only, FM talk station in the country building talk programming for women.
A former Chair of the NAB Radio Board, Ginny currently serves on the Executive Committee of the RAB (Radio Advertisers Bureau) and serves on the board of BMI (Broadcast Music Inc.) and the Library of American Broadcasting.
An active member of the Twin City community, her current and former civic board experience includes Chairing the Minnesota Chamber of Commerce. Ginny also currently serves on the boards of MinnCann and St. Thomas Academy.
In 2000, Ginny was named President of Hubbard Radio, delegating much of the day-to-day operations to others in the growing organization.
Ginny and her two children live in St. Paul, Minnesota.
All Sessions By Ginny Morris
Day 1
July 28, 2017
11.30-13.30
Conference Room 1
Day 2
July 28, 2017
15.00-16.30
Conference Room 2
Day 3
July 28, 2017
18.00-19.00
Conference Room 3