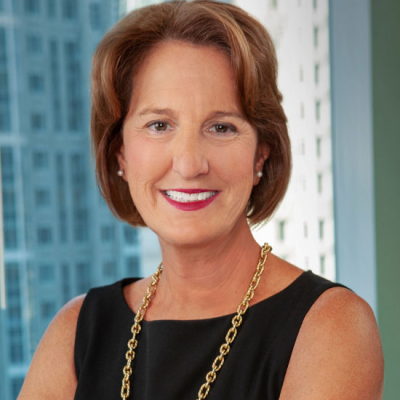 Julie Talbott
Julie Talbott started her career in advertising at BBDO, where she spent five years as supervisor of media planning and buying. However, her love of radio took her to MJI Broadcasting, where she spent 19 years. As COO of MJI Broadcasting, Talbott was instrumental in growing the company from five people to more than 150. She also led the effort in acquiring the exclusive radio rights of the Country Music Awards and the CMA Music Festival for the company.
In 1999, Premiere Networks acquired MJI Broadcasting. At that time, Talbott joined Premiere as senior vice president of integrated marketing solutions, focusing on advertising sponsorships. In 2003, she was promoted to executive vice president, affiliate relations. In that role, she oversaw a staff that increased affiliations for programs hosted by Glenn Beck, George Noory, Steve Harvey, Keith Sweat, Elvis Duran, FOX Sports Radio and others. In 2009, Talbott was named president, content and affiliate relations for Premiere Networks and was promoted in September 2012 to extend that title to the National Media Groups division of Clear Channel Media and Entertainment (now known as iHeartMedia).
In January 2014, she was promoted to president of Premiere Networks. In her current role, Talbott continues to oversee the operation of Premiere Networks' roster of more than 100 radio programs and services, while managing business partnerships with talent, and leading and maintaining key affiliate relationships to sell and service Premiere Networks, Total Traffic & Weather Network and the 24/7 News Network.
A native of the Bluegrass state, Kentucky, Talbott received her B.A. from the University of Kentucky and attended the Business Strategy Program at Columbia University Graduate School of Business in 1996. Talbott and her husband raised three children in New York.
All Sessions By Julie Talbott
Day 1
July 28, 2017
11.30-13.30
Conference Room 1
Day 2
July 28, 2017
15.00-16.30
Conference Room 2
Day 3
July 28, 2017
18.00-19.00
Conference Room 3